February 6th, 2020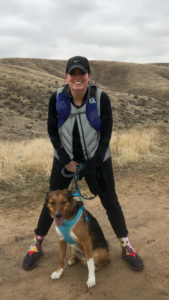 One of the smiling faces at Lineberry Orthodontics is our assistant, Kelli  Crocker.  For the past 8 years she has been helping transform smiles for kids and adults alike with Dr. Laura.
In her free time, she runs and runs and runs.  Seriously!  She has completed over 15 races LONGER than a marathon.  She runs Ultra's (31 miles) and has completed a couple 50- milers.   Right now she is preparing for a 24 hour race at Eagle Island.  The race starts at 6 PM on a Friday night and races as long as possible for 24 hours.  Kelli plans to get 50 miles done by morning so she can take a little rest as the sun comes up before she runs an additional 10-20 miles to finish.   Kelli is the real deal when it comes to tough!
When she is not running, she likes spending time with her husband Mike and three dogs, Dexter, Dooley, and Dugan.